Erratum to: A representation of a compressed de Bruijn graph for pan-genome analysis that enables search
Algorithms for Molecular Biology volume 11, Article number: 28 (2016)
The original article was published in

Algorithms for Molecular Biology

2016

11

:20
Erratum to: Algorithms Mol Biol (2016) 11:20 DOI 10.1186/s13015-016-0083-7
After publication of the original article [1], the authors noticed errors in Algorithm 2 and the caption of Table 4. In Algorithm 2, the term "rank1(Bl, i − 1) + 1" should be included on line 28 and not line 29. In addition, in the caption of Table 4, the word "BVr" should be replaced by "Br" and the word "BVl" should be replaced by "Bl". The correct versions of Algorithm 2 and Table 4 are included in this erratum.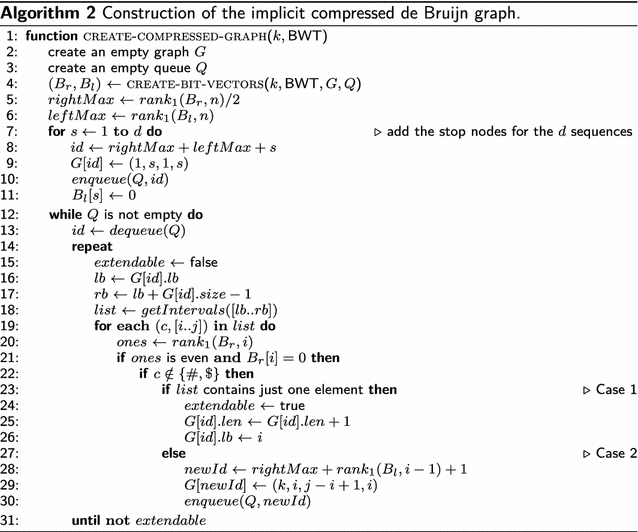 Reference
1.

Beller T, Ohlebusch E. A representation of a compressed de Bruijn graph for pan-genome analysis that enables search. Algorithms Mol Biol. 2016;11:20. doi:10.1186/s13015-016-0083-7.
Rights and permissions
Open Access This article is distributed under the terms of the Creative Commons Attribution 4.0 International License (http://creativecommons.org/licenses/by/4.0/), which permits unrestricted use, distribution, and reproduction in any medium, provided you give appropriate credit to the original author(s) and the source, provide a link to the Creative Commons license, and indicate if changes were made. The Creative Commons Public Domain Dedication waiver (http://creativecommons.org/publicdomain/zero/1.0/) applies to the data made available in this article, unless otherwise stated.
About this article
Cite this article
Beller, T., Ohlebusch, E. Erratum to: A representation of a compressed de Bruijn graph for pan-genome analysis that enables search. Algorithms Mol Biol 11, 28 (2016). https://doi.org/10.1186/s13015-016-0090-8
Received:

Accepted:

Published: