Invariants and Other Structural Properties of Biochemical Models as a Constraint Satisfaction Problem
Algorithms for Molecular Biology
2012
7:15
Received: 29 April 2011
Accepted: 29 May 2012
Published: 29 May 2012
Abstract
Background
We present a way to compute the minimal semi-positive invariants of a Petri net representing a biological reaction system, as resolution of a Constraint Satisfaction Problem. The use of Petri nets to manipulate Systems Biology models and make available a variety of tools is quite old, and recently analyses based on invariant computation for biological models have become more and more frequent, for instance in the context of module decomposition.
Results
In our case, this analysis brings both qualitative and quantitative information on the models, in the form of conservation laws, consistency checking, etc. thanks to finite domain constraint programming. It is noticeable that some of the most recent optimizations of standard invariant computation techniques in Petri nets correspond to well-known techniques in constraint solving, like symmetry-breaking. Moreover, we show that the simple and natural encoding proposed is not only efficient but also flexible enough to encompass sub/sur-invariants, siphons/traps, etc., i.e., other Petri net structural properties that lead to supplementary insight on the dynamics of the biochemical system under study.
Conclusions
A simple implementation based on GNU-Prolog's finite domain solver, and including symmetry detection and breaking, was incorporated into the BIOCHAM modelling environment and in the independent tool Nicotine. Some illustrative examples and benchmarks are provided.
Keywords
Mixed Integer ProgrammingConstraint ProgrammingConstraint Satisfaction ProblemSymmetry DetectionElementary Flux Mode
1 Background
1.1 Introduction
Reaction models like those of reactome.org, KEGG pathway database [1] or biomodels.net represent a growing part of Systems Biology especially for metabolic or signalling pathways, cell-cycle and more generally post-genomic regulation systems. They build on established standards like BioPAX or SBML [2] to facilitate the exchange and comparison of models and benefit from a large number of available tools, especially ODE integration based simulators.
The use of Petri nets to represent those models, taking into account the difference between compounds and reactions in the graph, and make available various kinds of analyses is quite old [3], however it remains somehow focused towards mostly qualitative and structural properties. Some have been used for module decomposition, like (I/O) T-invariants [4, 5], related to dynamical notions of elementary flux modes [6]. However, there is, to our knowledge, very little use of P-invariant computation, which provides both qualitative information about some notion of module related to the "life cycle" of compounds, and quantitative information related to conservation laws - each P-invariant defines a conserved moiety of the obtained ODE system, whatever the rate laws - and Jacobian matrix singularity - induced by any P-invariant since it defines a linear dependency between variables. Conservation law extraction is actually already provided by a few tools, but then using numerical methods, based on the quantitative view of the model, and not integer arithmetic (as in direct P-invariant analysis).
We present here a very simple way to incorporate invariant computation in an existing biological modelling tool, using constraint programming with symmetry detection and breaking. We compare it to other approaches and evaluate it, for the case of P-invariants, on some examples of various sizes, like the MAPK cascade models of [7] and [8]. This experimentation is done through an implementation of the described method in the BIOCHAM modelling environment [9, 10], and in the independent tool Nicotine. We benchmark the efficiency against state of the art Petri net tools on various models. Finally we show that the presented approach allows to compute, within the same framework, other interesting structural properties like sub/sur-invariants or siphons/traps, bringing even more insight into the dynamics of the biochemical system under study.
1.2 Petri net view of a reaction model
A Petri net is a bipartite oriented (weighted) graph of transitions, usually represented as square boxes, and places, usually represented as circles, that defines a (actually not unique) transition relation on markings of the net, i.e., multisets of tokens associated to places. The relation is defined by firings of transitions, i.e., when there are tokens (as many as the weight of the incoming arc) in all pre-places of a transition, they can be consumed and as many tokens as the weight on the outgoing arc are added to each post-place. The classical Petri net view of a reaction model is simply to associate biochemical species to places and biochemical reactions to transitions.
Example 1
For instance the enzymatic reaction written (in BIOCHAM-like syntax)
,
A + E ⇔ A-E ⇒ B + E
corresponds to the following Petri net
(Figure
1
)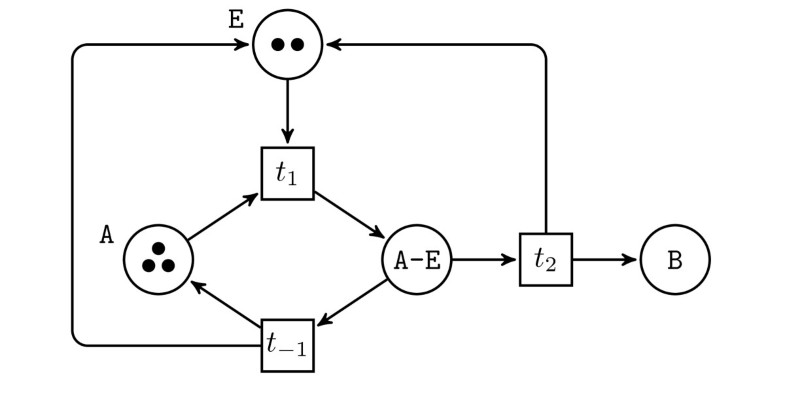 In this Petri net, starting from a marking with at least one token in A and in E, one can remove one of each to produce one token in A-E (firing of t1) and then either remove it to add again one token to A and one to E (firing of t-1), or to add one B and one E (firing of t2).
P (resp. T) invariants are defined, as usual, as vectors V representing a multiset of places (resp. of transitions) such that V · I = 0 (resp. I · V = 0) where I is the incidence matrix of the Petri net, i.e. I ij is the number of arcs from transition i to place j, minus the number of arcs from place j to transition i. Intuitively, a P-invariant is a multiset representing a weighting of the places and such that any such weighted marking remains invariant by any firing; a T-invariant represents a multiset of firings that will leave invariant any marking (see also section 2.1). As explained in the introduction, for reaction models these invariants are used for flux analysis, variable simplification through conservation law extraction, module decomposition, etc. Note that we are concerned with the classical invariant problem and thus restrict our study to integer weights. This is an important difference with respect to the aforementioned flux analyses but it arises from the fact that the biochemical models we studied did not come from metabolism but from the modelling of signal transduction pathways, cell cycle, circadian rhythm, etc. In all these cases the stoichiometry was integer and, for instance, the extracted conservation laws will include only integer number of molecules.
1.3 Related work
To compute the invariants of a Petri net, especially if this computation is combined with other Petri net analyses, like sinks and sources, traps, deadlocks, etc. the most natural solution is to use a Petri net dedicated tool like INA, PiNA, or Charlie for instance through the interface of Snoopy [11], which allows the import of SBML models as Petri nets. Standard integer methods like Fourier-Motzkin elimination will then provide an efficient means to compute P or T-invariants (see for instance [12] for a review). These methods however generate lots of candidates which are afterwards eliminated and also need to incorporate some means (like equality class definition) to avoid combinatorial explosion at least in some simple cases, as explained in Section 2.2.
Another way to extract the minimal semi-positive invariants of a model is to use one of the software tools that provide this computation for biological systems, generally as "conservation law" computation, and based on linear algebra methods like QR factorization [13]. This is the case for instance of the METATOOL [14] and COPASI [15] tools. The idea is to use a linear relaxation of the problem, which suits well very big graphs, but needs again a posteriori filtering of the candidate solutions. Moreover, these methods do not incorporate any means of symmetry elimination (see Section 2.2). A recent technique for elementary mode computation relies on Mixed Integer Programming (MIP) [16] and is thus quite similar in theory to the ideas of thus article, however it is tailor-made for elementary modes whereas for invariants pure Integer Programming would be enough, it is focused around the computation of a partial basis of these modes, which is an important problem but not the focus in this article, and - once again - it does not incorporate any symmetry breaking.
Finally, the most recent developments in invariant computation rely on a symbolic encoding through Binary decision Diagrams [17]. The tools based on this technique can prove quite efficient and are not unrelated to the symbolic encoding we present here through constraints. However they do not seem to integrate symmetry detection, also rely on filtering for minimality and thus, though they provide a symbolic solution very fast in some cases, might also benefit from some of the ideas we present. See section 2.5 for a more precise evaluation.
3 Conclusion
P-invariants of a biological reaction model are not so difficult to compute in most cases. They carry information about conservation laws that are useful for efficient and precise dynamical simulation of the system, and provide some notion of module, which is related to the life cycle of molecules. T-invariants are already used more commonly, and get more and more focus recently.
We introduced a new method to efficiently compute P and T-invariants of a reaction network, based on FD constraint programming. It includes symmetry detection and breaking and scales up well to the biggest reaction networks found. Completeness is lost on the biggest examples but we still look for a better upper bound on domains to restore it.
The idea of applying constraint based methods to classical problems of the Petri net community is not new, but seems currently mostly applied to the model-checking. We argue that structural problems (invariants, sinks, attractors, etc.) can also benefit from the know-how developed for finite domain CP solving, like symmetry breaking, search heuristics, flexibility, etc. and thus intend to generalize our approach to other problems of this category.
Declarations
Acknowledgements
We thank the French ANR project BioTempo (ANR-10-BLANC-0218) for its support.
Authors' Affiliations
(1)
Equipe-Projet Contraintes, INRIA Paris-Rocquencourt, France
Copyright
© Soliman; licensee BioMed Central Ltd. 2012
This article is published under license to BioMed Central Ltd. This is an Open Access article distributed under the terms of the Creative Commons Attribution License (http://creativecommons.org/licenses/by/2.0), which permits unrestricted use, distribution, and reproduction in any medium, provided the original work is properly cited.