Scoring function to predict solubility mutagenesis
Algorithms for Molecular Biology
2010
5:33
Received: 1 June 2010
Accepted: 7 October 2010
Published: 7 October 2010
Abstract
Background
Mutagenesis is commonly used to engineer proteins with desirable properties not present in the wild type (WT) protein, such as increased or decreased stability, reactivity, or solubility. Experimentalists often have to choose a small subset of mutations from a large number of candidates to obtain the desired change, and computational techniques are invaluable to make the choices. While several such methods have been proposed to predict stability and reactivity mutagenesis, solubility has not received much attention.
Results
We use concepts from computational geometry to define a three body scoring function that predicts the change in protein solubility due to mutations. The scoring function captures both sequence and structure information. By exploring the literature, we have assembled a substantial database of 137 single- and multiple-point solubility mutations. Our database is the largest such collection with structural information known so far. We optimize the scoring function using linear programming (LP) methods to derive its weights based on training. Starting with default values of 1, we find weights in the range [0,2] so that predictions of increase or decrease in solubility are optimized. We compare the LP method to the standard machine learning techniques of support vector machines (SVM) and the Lasso. Using statistics for leave-one-out (LOO), 10-fold, and 3-fold cross validations (CV) for training and prediction, we demonstrate that the LP method performs the best overall. For the LOOCV, the LP method has an overall accuracy of 81%.
Keywords
Support Vector MachineLassoLinear Programming MethodDelaunay TessellationMinimum Margin
Introduction
Correlations between sequence and structure influence to a large extent how proteins fold, and also how they function. Working under this premise, most computational methods used for predicting various aspects of structure and function employ scoring functions, which quantify the propensities of groups of amino acids to form specific structural or functional units. Scoring functions for mutagenesis predict the effects of changing one or more amino acids (AAs) on critical properties such as stability [1–4] or activity [5], solubility [6], etc. In experimental mutagenesis, one is often faced with the challenge of having to select a small subset from a large set of candidate mutations. Computational methods are invaluable for making such choices without generating all the mutants in the lab.
Most computationally efficient scoring functions analyze protein structure at the atomic level or at the AA level. Frequencies of groups of AAs in contact have widely been used to define scoring functions for fold recognition. The default choice is two body (pairwise) contacts [7–10], but three [11, 12] as well as four body contacts [13–15] have also been used to define such potential energies. It is natural to expect higher order contacts to carry more information than two body contacts. Further, higher order contacts could not typically be modeled by summing up the component pairwise contacts [12, 16]. Four body contacts defined using the concept of Delaunay tessellation (DT) [17] of protein structures have been employed for computational mutagenesis of protein stability [3, 18, 19] and enzyme activity [5]. The main advantage of employing DT is that it provides a more robust definition of nearest neighbors than pairwise distance calculations. DT of protein structure has also been used as a generic computational tool to analyze various aspects of protein structure such as secondary structure assignment [20], structural classification [21, 22], and analysis of small-world nature of protein contacts [23].
Even though the all-atom structure of a protein is more accurate than representing each AA by a single point, the latter approach has its advantages. Apart from being simpler, the unified residue representation can be applied even when the full-atom structure is not available. This representation is also more well-suited for predicting mutagenesis, where the all-atom structure of the resulting mutant is usually not known. With protein solubility in mind, we introduce the degree of buriedness for three body contacts under the framework of DT, which estimates the extent of surface exposure or buriedness of contacts without measuring the actual surface areas. Notice that an efficient method for calculating solvent accessible surface areas uses alpha shapes[24], which is a generalization of DT, when working on all-atom models of proteins. At the same time, such surface area calculations do not consider the sequence identity of the AAs involved. On the other hand, some previous studies that included AA identities of the contacts have used arbitrary cut-off values on the associated solvent accessible surface areas to label the contacts as exposed or not [15]. The degrees of buriedness provides an efficient middle ground for analyzing the AA composition and the buriedness of contacts in the same setting.
Compared to stability or reactivity mutagenesis, collections of experimental data for solubility mutagenesis appear scarce. This is especially the case for solubility data that includes structural information. By exploring the literature, we have assembled a structural dataset of 137 single- and multiple-point mutants along with the associated increases or decreases in the wild-type (WT) solubilities. To our knowledge, this is the largest structural database for solubility mutagenesis assembled so far. Some previous studies [6, 25, 26] have developed computational models to predict whether a protein will be soluble or not. In contrast, we are predicting changes to the solubility of the protein, i.e., whether solubility increases or decreases due to mutation(s). Henceforth in this paper, when we use the term predicting solubility mutagenesis, we mean the prediction of whether solubility increases or decreases.
We define a scoring function to predict solubility mutagenesis based on the frequencies of triplets of AAs that have low degrees of buriedness, i.e., are predominantly on the surface. Machine learning techniques such as artificial neural networks or logistic regression [27] are often used to train such scoring functions on the experimental data. For binary classification problems, support vector machines (SVM) [28] have proven to be one of the most accurate machine learning techniques. The method of least angle regression (LAR) [29] to fit predictive models using the least absolute shrinkage and selection operator, or the Lasso[30] has also gained increased popularity recently. For our dataset, we have a much larger number of triplet types (3895 descriptors) as compared to the number of proteins (137). Hence we develop a new training method based on linear programming (LP), which combines some features of SVM and the Lasso. This LP method allows us to impose meaningful bounds on the weights as part of the learning process. As such, we attain better performances than the standard SVM and Lasso classifiers.
Methods
Delaunay tessellation is a construct from computational geometry that defines clusters of nearest neighbor points based on their relative proximities (see, e.g., [
17
]). The dual construct of DT called the
Voronoi diagram
defines convex polyhedral regions of space that are closer to the parent point than to other points. With each AA represented by a single point in 3 D space, the DT describes the structure of the protein as a collection of space-filling, non-overlapping tetrahedra (see Figure
1
for an illustration in 2D). These tetrahedra naturally define four body AA contacts. Solubility is predominantly a surface property, and surfaces are tessellated using triangles. Hence we define and analyze three body Delaunay contacts.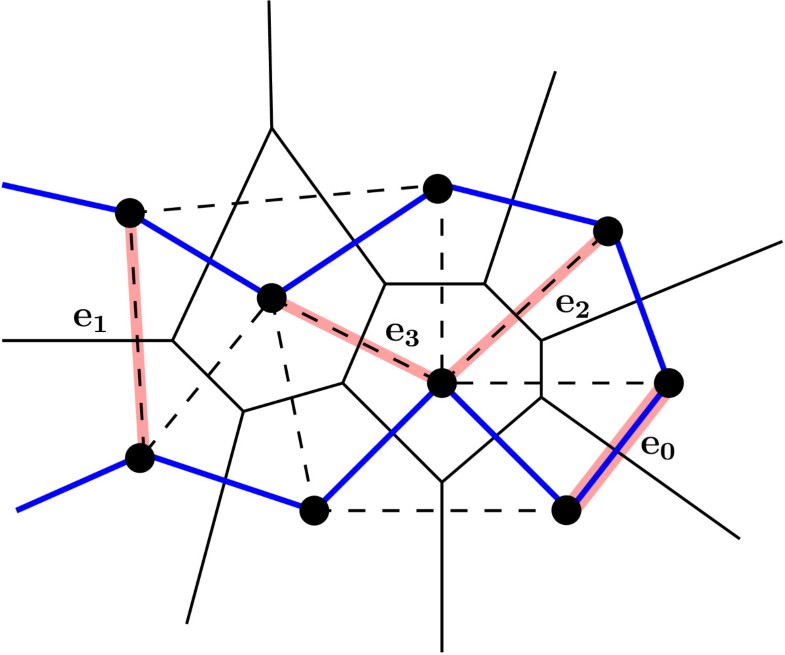 Results
Previous computational studies related to our line of work have tried to predict whether the protein will be soluble or not after mutation, rather than predict the change in its solubility. We still mention these results briefly. Smialowski et al. [25] have summarized the accuracies of most of these methods, all of which use only sequence-based attributes. They reported an overall accuracy of 70%, while Idicula-Thomas et al. [6] reported a slightly higher accuracy of 72%, which has been the best reported accuracy so far (these authors used a different dataset of 64 mutants).
We compare the performance of our LP model to SVM and Lasso (LAR) models. Given the size of the dataset, we are able to use LOOCV, which is often computationally expensive to perform. At the same time, there is some concern that LOOCV models may cause over-fitting. Hence we compare the three models using both 10-fold CV and 3-fold CV. We used the package LibSVM [40] to build the SVM models. For creating the LAR models, we used the function cvglmnet provided as part of the LARS software [29]. This function selects the best model for logistic regression (we choose the family as binomial) by using 10-fold cross validation on the training set alone. Thus we use 10-fold CV as the procedure for model selection within LAR when performing LOO, 10-fold, and 3-fold CV on the overall set of mutants. The best model thus selected in each case is then used to predict the classes for the mutants in the test set.
We report the accuracy, Matthew's correlation coefficient (MCC) [
41
], and precisions for both classes for each model. The statistics for LOOCV are presented in Table
2
, those for 10-fold CV are presented in Table
3
, and those for 3-fold CV are presented in Table
4
. These statistics show that the LP method outperforms SVM and Lasso classifiers based on all three CV methods. We used the default linear kernel for the SVM classifier. All nonlinear kernel options available in LibSVM performed worse than the linear kernel in this case, typically predicting all, or most, of the mutants to be in one class. The confusion matrices for LP, SVM, and Lasso prediction models are provided in Additional File
2
.
Table 2
Statistics for LOOCV using LP, SVM, and Lasso models.
| Measure | LP | SVM | Lasso |
| --- | --- | --- | --- |
| Accuracy | 0.810 | 0.708 | 0.701 |
| MCC | 0.617 | 0.405 | 0.423 |
| Precision(class I) | 0.762 | 0.661 | 0.909 |
| Precision(class D) | 0.851 | 0.735 | 0.661 |
Table 3
Statistics for 10-fold CV using LP, SVM, and Lasso models.
| Measure | LP | SVM | Lasso |
| --- | --- | --- | --- |
| Accuracy | 0.766 | 0.752 | 0.708 |
| MCC | 0.545 | 0.496 | 0.448 |
| Precision(class I) | 0.719 | 0.705 | 0.952 |
| Precision(class D) | 0.822 | 0.790 | 0.664 |
Table 4
Statistics for 3-fold CV using LP, SVM, and Lasso models.
| Measure | LP | SVM | Lasso |
| --- | --- | --- | --- |
| Accuracy | 0.766 | 0.686 | 0.715 |
| MCC | 0.529 | 0.359 | 0.452 |
| Precision(class I) | 0.714 | 0.638 | 0.917 |
| Precision(class D) | 0.811 | 0.722 | 0.673 |
For
k
-fold cross validation across sequentially diverse folds, we report the accuracy and MCC values for
k
= 19, 30, 50, 70 in Table
5
. These folds are created using sequence alignment scores, thus grouping mutants with similar sequences in the same fold. For
k
= 19, which corresponds to leaving one protein out, the performances are not great. There are many singleton triplets under this setting, for which the optimal weights cannot be assigned by learning. The performances are better when we go to
k
= 30 folds, with the LP method achieving an accuracy of 0.64 and an MCC value of 0.28. When the number of folds is increased further, the performances are expectedly better, as the number of singleton triplets go down. For
k
= 50 folds, the Lasso models outperformed the LP models, achieving an accuracy of 0.71 and an MCC value of 0.45. In summary, the scoring functions are effective as long as we can assign weights under training for a big majority of the triplet types. No obvious correlation was observed between the changes in hydrophobicity and solubility values for our dataset of mutants. 36 out of 78 mutants seeing a decrease in solubility show an increase in hydrophobicity, and 42 out of 59 mutants with increasing solubility showed a decrease in hydrophobicity. The detailed results are available in Additional File
3
(Excel) and in the web page for the paper [
37
].
Table 5
Accuracy and MCC values for k-fold CV using LP, SVM, and Lasso models, when the folds are created using sequence similarity scores.
LP

SVM

Lasso

k -fold

ACC

MCC

ACC

MCC

ACC

MCC

19

0.504

0.289

0.569

-0.056

0.569

-*

30

0.642

0.279

0.511

-0.075

0.584

0.140

50

0.650

0.289

0.409

-0.185

0.708

0.448

70

0.686

0.364

0.650

0.269

0.708

0.448
Conclusions
This study demonstrates that the default settings available as part of standard machine learning methods may not be appropriate for all data sets. Our LP-based method could be applied to other similar datasets, in which over-fitting may be a concern due to a large number of descriptors as compared to the number of entries in the training set. At the same time, it may not be obvious what the default weight or the bounds should be for other datasets. One could also implement the flexible treatment of weights as part of the optimization framework of an SVM model.
We are trying to expand out dataset of solubility mutants by further exploration of literature. We have already found a few mutants whose solubility is reported to be "close to WT"- for example, some mutants from the study of Chen et al. [42] (which are not included in our dataset). One way to include such mutants in our study is to expand the underlying model to include a third class of mutants that see no change in solubility post mutation. The prediction models would then have to be developed for multiclass prediction - 3-class to be exact, into I, D, and N for no change. At this point, we do not have a sizable number of mutants in the N class, but we plan to identify enough such mutants in the near future. At the same time, it may not be obvious how the LP model can be modified easily to handle more than two classes. The default idea would be to try the one-versus-all strategy, as used in multiclass SVM [40].
For the binary classification case, we expect the LP method to be effective even on larger datasets. The total number of triplet types considered in the scoring function is 1540 × 3 × 5 = 23100 (using 20 AAs, 3 connectivity classes, and 5 buriedness classes). Even with a few thousands of mutants in the dataset, one could expect the number of triplets seeing any changes to be larger than the number of mutations themselves. Hence, one could still hope for a complete separation of the three classes when solving the LP for the entire dataset. The current dataset is diverse, but one could re-train the weights by solving the LP on a specific family of proteins, if the goal is prediction for mutants belonging to the same family. This scoring function should perform better on test proteins within the family than the default scoring function, and poorer on ones outside it. Our method handles single- and multiple-point mutants in the same manner. In fact, it may be more accurate on multiple-point mutants, as the number of triplets involved in the mutation will typically be larger.
Authors' Information
BK is an assistant professor in Mathematics, and YT is a PhD student in Mathematics working under BK. BK has done previous work on scoring functions for proteins. CD is currently a graduate student in Biochemistry, and did research under BK as an undergraduate student previously. Part of the work related to the assembly of mutant data set was done by CD when he was an undergraduate student.
Declarations
Acknowledgements
Krishnamoorthy and Deutsch are thankful for the support provided by the NSF Grant EF 0531870 for working on the research presented in this paper.
Authors' Affiliations
(1)
Department of Mathematics, Washington State University, Pullman, USA
(2)
Department of Chemistry, Portland State University, Portland, USA
Copyright
© Tian et al; licensee BioMed Central Ltd. 2010
This article is published under license to BioMed Central Ltd. This is an Open Access article distributed under the terms of the Creative Commons Attribution License (http://creativecommons.org/licenses/by/2.0), which permits unrestricted use, distribution, and reproduction in any medium, provided the original work is properly cited.