Mimosa: Mixture model of co-expression to detect modulators of regulatory interaction
Algorithms for Molecular Biology
2010
5:4
Received: 14 July 2009
Accepted: 4 January 2010
Published: 4 January 2010
Abstract
Background
Functionally related genes tend to be correlated in their expression patterns across multiple conditions and/or tissue-types. Thus co-expression networks are often used to investigate functional groups of genes. In particular, when one of the genes is a transcription factor (TF), the co-expression-based interaction is interpreted, with caution, as a direct regulatory interaction. However, any particular TF, and more importantly, any particular regulatory interaction, is likely to be active only in a subset of experimental conditions. Moreover, the subset of expression samples where the regulatory interaction holds may be marked by presence or absence of a modifier gene, such as an enzyme that post-translationally modifies the TF. Such subtlety of regulatory interactions is overlooked when one computes an overall expression correlation.
Results
Here we present a novel mixture modeling approach where a TF-Gene pair is presumed to be significantly correlated (with unknown coefficient) in an (unknown) subset of expression samples. The parameters of the model are estimated using a Maximum Likelihood approach. The estimated mixture of expression samples is then mined to identify genes potentially modulating the TF-Gene interaction. We have validated our approach using synthetic data and on four biological cases in cow, yeast, and humans.
Conclusions
While limited in some ways, as discussed, the work represents a novel approach to mine expression data and detect potential modulators of regulatory interactions.
Keywords
Expression CorrelationCorrect ModifierExpression SamplePartition VectorMixture Modeling Approach
Background
Eukaryotic gene regulation is carried out, to a significant extent, at the level of transcription. Many functionally related genes, e.g., members of a pathway, involved in the same biological process, or whose products physically interact, tend to have similar expression patterns [1, 2]. Indeed, co-expression has been used extensively to infer functional relatedness [3–6]. Various metrics have been proposed to quantify the correlated expression, such as Pearson and Spearman correlation [2], and mutual information [5]. However, these metrics are symmetric and they neither provide the causality relationships nor do they discriminate between indirect relations. For instance, two co-expressed genes may be co-regulated, or one may regulate the other, directly or indirectly.
A critical component of transcription regulation relies on sequence-specific binding of transcription factor (TF) proteins to short DNA sites in the relative vicinity of the target gene [7]. If one of the genes in a pairwise analysis of co-expression is a TF then the causality is generally assumed to be directed from the TF to the other gene. In the absence of such information, an additional post-processing step [5] can be used to infer directionality between the pair of genes with correlated expression. Moreover, a first order conditional independence metric [4] has been proposed to specifically detect direct interactions.
While TFs are the primary engines of transcription, their activity depends on several other proteins such as modifying enzymes and co-factors, which directly or indirectly interact with the TF to facilitate its activity. For instance, the activity of TF CREB depends on a number of post-translational modifications, most notably, Ser133 phosphorylation by Protein Kinase A [8]. Moreover, for many TFs, the TF activity is likely to be restricted to specific cell types and/or experimental conditions. Thus the common practice of using large compendiums of gene expression data to estimate co-expression and thus functional relatedness has two main limitations: (1) it includes irrelevant expression samples which adds noise to the co-expression signal, and (2) it overlooks the contributions of additional modifier genes and thus fails to detect those modifiers which are critical components of gene regulatory networks.
To infer the dependence of TF activity on histone modification enzymes, Steinfeld et al. analyzed the expression of TF-regulons (putative targets of a TF) in yeast samples where specific histone modification enzymes were knocked out [9]. In a different study, Hudson et al. analyzed two sets of expression data in cow, a less-muscular wild-type and another with mutant TF Myostatin [10]. They found that the co-expression of Myostatin with a differentially expressed gene, MYL2, was significantly different between the mutant and the wild-type sets of expression. This differential co-expression led them to detect Myostatin as the causative TF even though the expression of Myostatin gene itself was not different between the mutant and the wild type. In both of the cited examples [9, 10], the two sets of expression were well characterized and known a priori. In fact, Hu et al. have proposed a non-parametric test to detect differentially correlated gene-pairs in two sets of expression samples [11]. However, it is not clear how to detect such differentially co-expressed gene pairs when the appropriate partition of the expression samples is not provided and cannot be derived from the description of the experiments. This problem is an important practical challenge for large expression compendiums that cover many diverse experimental conditions. The tremendously growing expression compendium [12], provides a unique opportunity to identify not only co-expressed and functionally related genes, but also to predict putative modifiers of gene regulators.
For a pair of genes for which we have expression data across a set of conditions/samples, we assume there is some partition of the conditions such that the two genes are correlated in one partition and are uncorrelated in the other. Here we propose a novel approach, "Mimosa", that detects the hidden partition of the expression samples into correlated and uncorrelated subsets. If found, such a partition suggests the existence of modifier genes, such as TF modifying enzymes, that should be differentially expressed between the correlated and uncorrelated sample partitions. In other words, genes whose expression vector across samples is correlated with the sample partition vector are putative modifiers. The sample partition is derived from a mixture model of the co-expression data. The free parameters of the mixture model are estimated using a Maximum Likelihood Estimation (MLE) approach. Once the mixture parameters are obtained, we can then compute a weighted partitioning of the samples into the correlated and uncorrelated sets. In a subsequent step, we detect putative modifier genes that are differentially expressed between correlated and uncorrelated samples. Using synthetic data we show that Mimosa can partition expression samples and detect modifier genes with high accuracy. We further present four biological applications, one in bovine samples, two in yeast, and one in human B cells. This work represents a novel approach to mine expression data and detect potential modulators of regulatory interactions.
Methods
Mixture modeling of co-expression
where -1 ≤ α ≤ 1 is a free parameter of the mixture model that controls the aspect ratio of the correlated distribution. Without loss of generality let σ v > σ u ; then in terms of α we have σ u 2 = (1 - |α|) and σ u 2 = (1 + |α|). Note that α < 0 corresponds to positively correlated data (θ = π/4) and α > 0 corresponds to negatively correlated data (θ = -π/4). For an aspect ratio defined by r ≡ σ v /σ u > 1, we have |α| = (r2-1)/(r2+1). In summary, the mixture model has two free parameters, (f, α), that determine the fraction of uncorrelated points in the observed data and the aspect ratio of the distribution for correlated data.
We maximize L numerically using the quasi Newton-Raphson function optimization routine in the open source Gnu Scientific Library http://www.gnu.org/software/gsl. The resulting parameter estimates are

and

.
This vector of probabilities is equivalent to a weighted partitioning of the sample set. Modifier genes are selected based on their correlation with vector

. We compute this correlation with a t-test based on the expected population number, mean, and variance (see below). When computationally feasible, we use non-parametric correlation measures, such as Kendall's Tau.
Weighted t-statistic
Given two vectors: (1) the

vector denoting the partition probability for each sample, and (2) expression vector

over all samples for a potential modifier gene, we can, in principle, partition the expression samples into two parts based only on the partition probability, and then compare the expression values in the two parts using a t-statistic or an alternative non-parametric test. However, this approach requires an arbitrary choice of partition probability threshold to partition the sample. We instead used a weighted version of the t-statistic that obviates the need for an arbitrary threshold. The standard t-statistic requires three parameters for each of the two partitions: the two sample-means, the two sample-standard deviations, and the two sample-sizes. We computed all these parameters using a weighted sum. For instance, the sample mean of the correlated partition, μ c , can be estimated as

, where

is the weighted number of correlated samples. Similarly, the standard deviation of the correlated partition, σ c , is given by

.
Generating synthetic data
To generate a TF-Gene-Modifier triplet for a given f and α we performed the following steps. We first create the modifier and TF expression data independantly by random sampling from a normal distribution. For the given f, we determine the modifier expression threshold m * such that below this threshold the TF and gene are presumed to be uncorrelated and above this threshold, the TF and the gene are presumed to be correlated. The value of m * is estimated by

. We generate the gene expression value as follows. Let m be the modifier expression in the k th sample. If m < m*, then the gene's expression value for that sample, y k , is drawn from a normal distribution (the uncorrelated distribution). If m ≥ m*, then the gene's expression value is drawn from a Gaussian distribution with mean -αx k and variance (1 - α2), where x k is the expression value of the TF for the k th sample. The latter step follows from the fact that the co-expression distribution for correlated data can be written as p c (x, y) = p u (x)p c (y|x) where p c (y|x) is a Gaussian with mean -αx and variance (1 - α2).
Conclusions
For a pair of co-expressed genes (X and Y), we have presented a mixture modeling approach to partition the expression samples in order to detect the specific subset of samples where X and Y expressions are strongly correlated. In some cases, such a partition may help detect other genes likely to modulate the expression correlation between X and Y. Such a potential modulator is characterized by having differential expression in the two sample partitions. A few previous investigations closely relate to our work. In [10] and in [11], given two sets of expression samples, the authors explicitly search for gene-pairs whose expression correlations are significantly different in the two sets of samples. A different approach, termed Liquid Association, explicitly tries to detect gene triplets (X, Y, Z) where the change in correlation between X and Y varies with the changes in the value of Z[23]. This approach implicitly partitions the expression samples based on the modulator gene expression. In contrast, our approach partitions the expression samples without any knowledge of the modulator gene and proceeds with the search for modulator genes in a subsequent step.
In a genome-wide application, such as in the yeast application presented above, in principle, one can apply a Log-Likelihood Ratio (LLR) test, where the likelihood of the mixture model with a free
f
and
α
parameters is compared with the likelihood of a model where
f
= 0 and only
α
is free. The log of the ratio of the two likelihoods can be used to assess significance of the partition based on a
χ
2
distribution. While it is appealing to use the LLR test to assess the significance of the mixture model, we found that our empirical distribution does not follow a
χ
2
distribution (Figure
4
). Our next thought was to use an empirically derived p-value for the mixture likelihood by randomly permuting the expression data. However, the empirical distributions of the likelihood itself varied significantly among different gene-pairs and thus we could not use a global distribution. Unfortunately, the number of permutations desired for an adequately resolved p-value is computationally infeasible if done for each gene-pair separately. Thus, as a practical compromise, in the genome-wide yeast application, we chose to only consider gene-pairs with a Bonferroni-corrected global Kendall's Tau correlation p-value ≤ 0.05.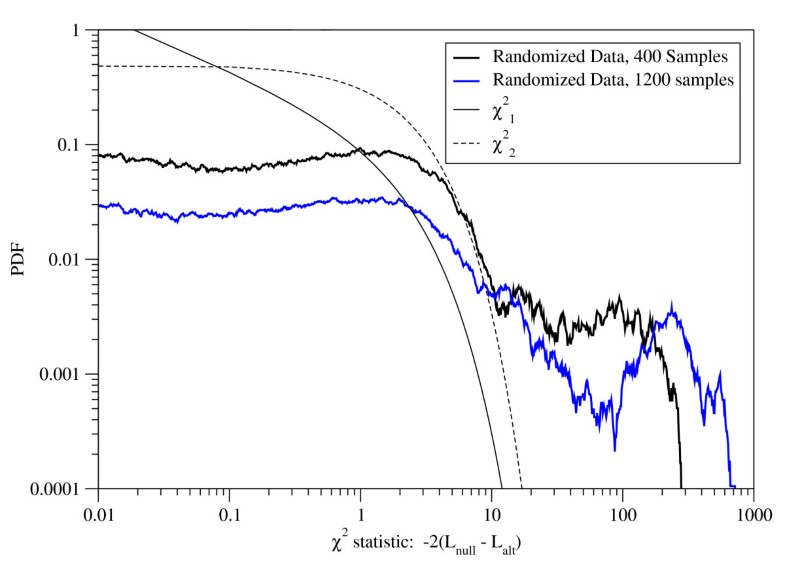 We face a similar challenge in the second phase of the approach, where, given the mixture model and the sample partition probability vector

, we search for modulator genes based on the correlation of their expression vectors with

. For a large number of trials (number of candidate modulators), a non-parametric test of correlation, such as Kendall's Tau, becomes infeasible. Thus, as another practical compromise, we devised the weighted t-test, which works well for the synthetic data. For the small-scale yeast application on specific (X, Y, Z)-triplets, we used Kendall's Tau but for the large-scale application we used weighted t-statistic. A more detailed study needs to be done to carefully assess the effect of these practical choices on the method's accuracy and efficacy.
Our mixture modeling may be most effective in cases such as the one described in [10], where the sample partition is clearly characterized by a single (unknown) mutant gene. In most practical situations, based on publicly available compendiums of expression data, this may not be the case. Regulatory relationships in eukaryotes have multiple determinants and it is possible that even if the method does detect the "correct" partition, it may be difficult to evaluate the biological significance of the sample partition based on the differential expression of a single modulator gene.
In summary, our work contributes a novel approach to the problem of partitioning expression samples and detecting potential modulators of expression correlation between a pair of genes. While this approach is likely to be effective in specific cases, as discussed above, statistical and computational challenges remain to be resolved and further work needs to be done to harness the approach in a large-scale application.
Declarations
Acknowledgements
SH is supported by NIH R01-GM-085226, MH is supported by NIH R21-GM-078203, LE is supported by NIH T32-HG-000046 and LS is supported by NIH T32-HG-000046. A version of this paper was published in the WABI 2009 conference proceedings.
Authors' Affiliations
(1)
Department of Genetics, Penn Center for Bioinformatics, University of Pennsylvania, USA
Copyright
© Hansen et al; licensee BioMed Central Ltd. 2010
This article is published under license to BioMed Central Ltd. This is an Open Access article distributed under the terms of the Creative Commons Attribution License (http://creativecommons.org/licenses/by/2.0), which permits unrestricted use, distribution, and reproduction in any medium, provided the original work is properly cited.