A simulation study comparing supertree and combined analysis methods using SMIDGen
Algorithms for Molecular Biology
2010
5:8
Received: 12 August 2009
Accepted: 4 January 2010
Published: 4 January 2010
Abstract
Background
Supertree methods comprise one approach to reconstructing large molecular phylogenies given multi-marker datasets: trees are estimated on each marker and then combined into a tree (the "supertree") on the entire set of taxa. Supertrees can be constructed using various algorithmic techniques, with the most common being matrix representation with parsimony (MRP). When the data allow, the competing approach is a combined analysis (also known as a "supermatrix" or "total evidence" approach) whereby the different sequence data matrices for each of the different subsets of taxa are concatenated into a single supermatrix, and a tree is estimated on that supermatrix.
Results
In this paper, we describe an extensive simulation study we performed comparing two supertree methods, MRP and weighted MRP, to combined analysis methods on large model trees. A key contribution of this study is our novel simulation methodology (Super-Method Input Data Generator, or SMIDGen) that better reflects biological processes and the practices of systematists than earlier simulations. We show that combined analysis based upon maximum likelihood outperforms MRP and weighted MRP, giving especially big improvements when the largest subtree does not contain most of the taxa.
Conclusions
This study demonstrates that MRP and weighted MRP produce distinctly less accurate trees than combined analyses for a given base method (maximum parsimony or maximum likelihood). Since there are situations in which combined analyses are not feasible, there is a clear need for better supertree methods. The source tree and combined datasets used in this study can be used to test other supertree and combined analysis methods.
Keywords
Model TreeMaximum ParsimonyCombine AnalysisInput TreeSource Tree
Background
Supertree methods-methods that, given a set of trees with overlapping sets of taxa, return a tree on the combined taxon set-offer one approach to estimating phylogenies from multi-marker datasets. Supertree estimation methods are of considerable interest in the systematics community, and several large phylogenies have been published using these methods [1].
Matrix representation with parsimony (MRP) [2, 3] is currently the most widely used supertree method. It operates by encoding the set of source trees as a matrix of partial binary characters, one character for each branch of each source tree, and then analyzing that matrix using a parsimony heuristic. Weighted MRP [4] is a variant of MRP in which the partial binary characters are weighted, and this weighted matrix representation is then analyzed using weighted parsimony. These character weights are obtained from the source tree analyses, using either bootstrap support or posterior probabilities to assign weights to the branches of the source tree.
Several studies (mostly based upon simulation) have evaluated the performance of different supertree methods in terms of the topological accuracy of the resultant phylogenies and have investigated how different properties of the input-in particular, the percentage of missing data-and the method of phylogenetic analysis impact final phylogenetic accuracy [5–13]. Most of the supertree methods require that the input trees be rooted, a property that is not true of all trees in systematic studies, and potentially problematic because accurate rooting is itself a nontrivial issue. Of the supertree methods that do not require rooted input trees, MRP and weighted MRP are the most promising of the current supertree methods.
The main alternative to supertree methods are combined analysis methods, also known as supermatrix or total evidence approaches; these methods concatenate the alignments on each marker to produce a large "combined dataset", which is then analyzed using a phylogenetic estimation method (e.g., maximum likelihood or maximum parsimony). Sometimes a combined analysis is not always possible or advisable, e.g., when only source trees are available or when the source trees are derived from data types that cannot be used as input to a combined analysis [14–16]. These cases for supertree construction are not the subject of this paper.
Little is known about the relative accuracy of supertree and combined analysis approaches to multi-marker phylogenetics. Two studies have evaluated the relative performance of supertree methods and combined analysis methods: Bininda-Emonds and Sanderson [5], who evaluated combined analyses based upon maximum parsimony (MP), and Criscuolo et al. [13], who evaluated combined analyses based upon maximum likelihood (ML). Both found that combined analysis provided a somewhat more topologically accurate reconstruction than MRP. In addition, Bininda-Emonds and Sanderson found weighted MRP provided a slight improvement in tree accuracy over combined analysis when MP was used for both the source trees and the combined analysis. However, the experimental methodology of these earlier studies included elements that were neither biologically accurate nor reflective of systematic practice, so their conclusions regarding the relative performance of supertree methods and combined analysis need to be revisited. In particular, both studies examined datasets with small numbers of taxa (while supertree analyses are used primarily for very large numbers of taxa), and for their source trees, they chose taxa at random from their model trees (while most source tree datasets are generally based upon clades - sets of taxa densely sampled within one subtree of the tree). Given these methodological issues, the relative topological accuracy of supertree methods and combined analysis should still be considered open.
This paper introduces a novel simulation methodology, SMIDGen, which better reflects both biological processes and systematic practice than previous simulation techniques. We used SMIDGen to compare MRP, weighted MRP, and combined analysis on datasets with up to 1000 sequences. Under the conditions of our study, combined analysis using maximum likelihood consistently outperformed all other methods with respect to topological accuracy, suggesting that with more realistic simulations, MRP and weighted MRP supertree methods do not provide an acceptable alternative to combined analysis based upon maximum likelihood.
Results and Discussion
Relative performance of methods
Interestingly, the six methods we studied had roughly the same relative topological accuracy (measured with respect to FN and FP rates and to average topological error) under most model conditions. CA-ML was consistently the best method, with much lower topological error than the other methods for most model conditions. Following CA-ML were the other ML-based methods-wMRP-ML, and MRP-ML, in that order-and then the three MP-based methods-CA-MP, MRP-MP, and wMRP-MP, usually in that order
(Figures
1
,
2
and
3
). CA-ML's advantage was substantial for cases where the scaffold factor was less than 100% (with the biggest advantage for the smallest scaffold factors), and this advantage increased slightly with the number of taxa and decreased with the number of scaffold genes (Figures
4
and
5
).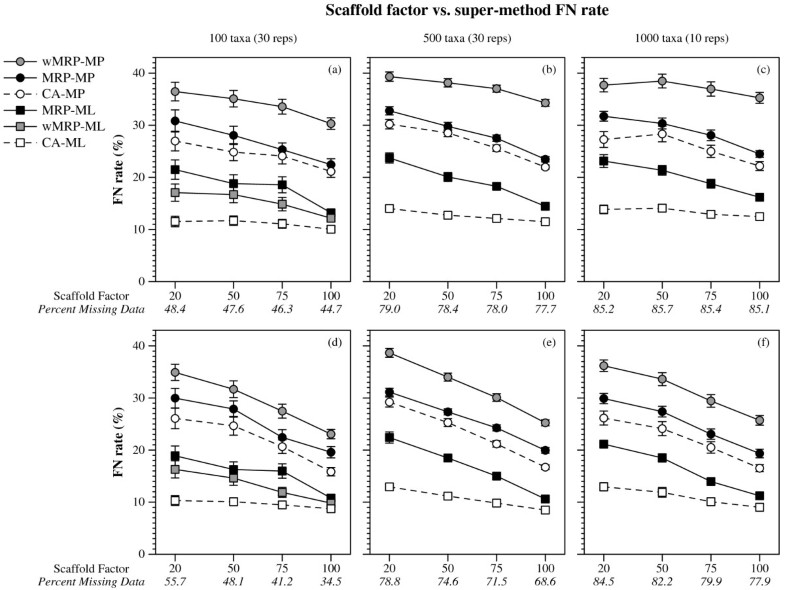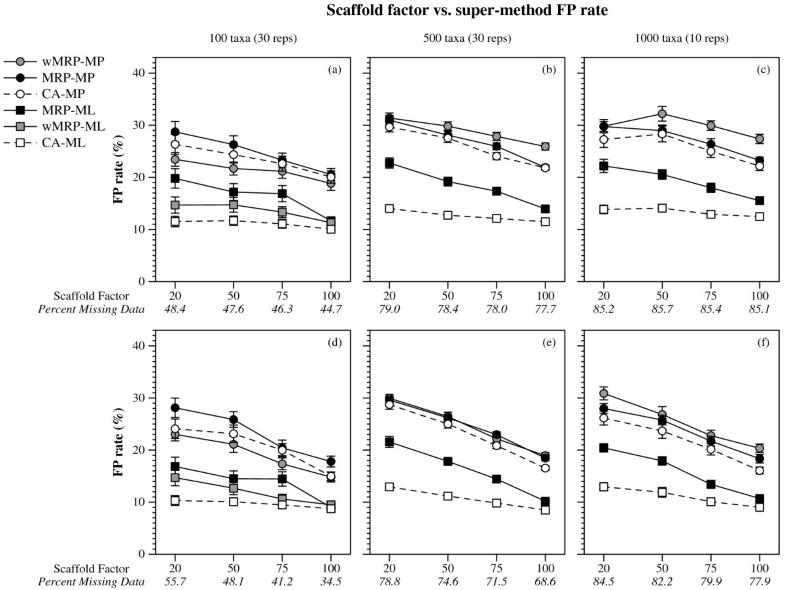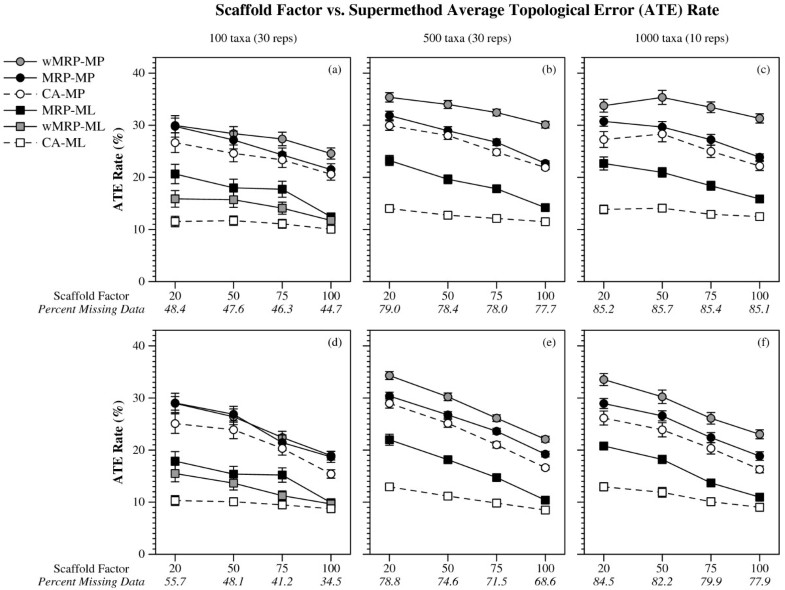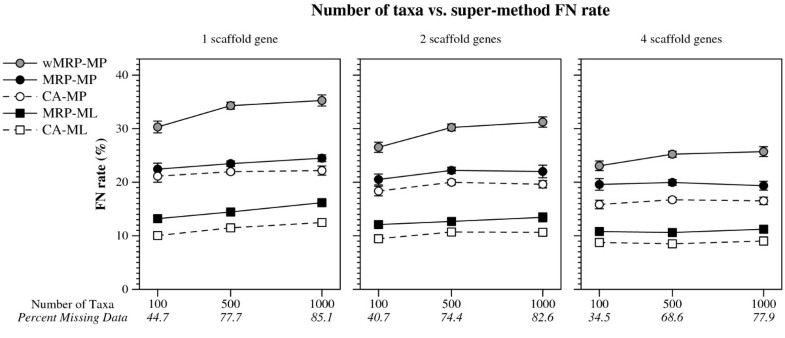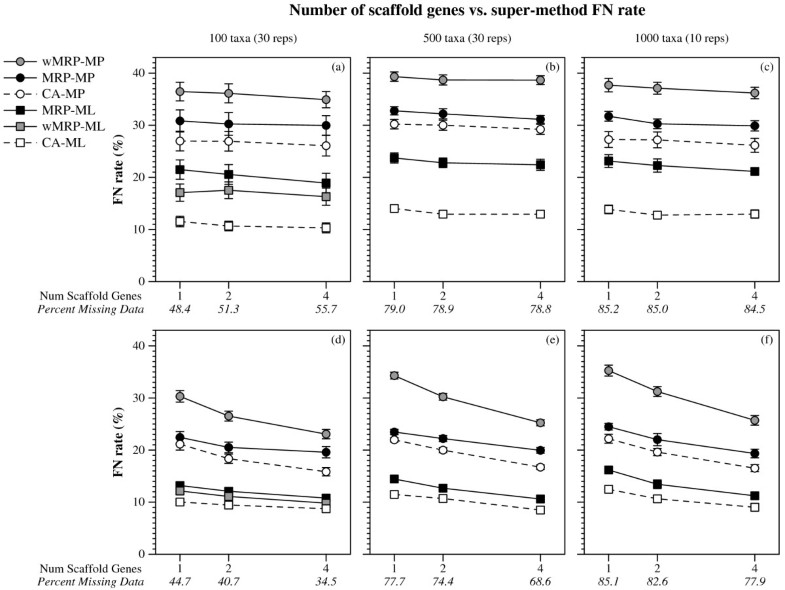 In comparing the performance of the different algorithms (combined analysis or supertree method, based upon either maximum parsimony or maximum likelihood), we discovered that certain algorithm design choices had a large impact on the topological accuracy of the trees that were constructed. In particular, the choice of optimization problem, i.e. whether we used maximum likelihood or maximum parsimony, had the largest impact on the final accuracy, with methods that used maximum likelihood (CA-ML, wMRP-ML, and MRP-ML) as a group more accurate than the methods based upon maximum parsimony (CA-MP, wMRP-MP, and MRP-MP). The second most significant algorithmic choice was whether we performed a combined or a supertree analysis, with CA-MP more accurate than MRP-MP and wMRP-MP, and similarly CA-ML more accurate than MRP-ML and wMRP-ML.
The first of these observations (that ML-based analyses were more accurate than MP-based analyses) is in some ways not surprising. Supertree methods are sensitive to error in their source trees, so improving the accuracy of the source trees will improve the accuracy of the supertrees. Furthermore, our study showed that source trees based upon ML were on average more accurate than source trees based upon MP. ML source trees usually had less than 20% FN error, and MP source trees usually had more than 20% (Figure
6
). These two observations suggest that supertrees based upon ML source trees should be more accurate than supertrees based upon MP source trees.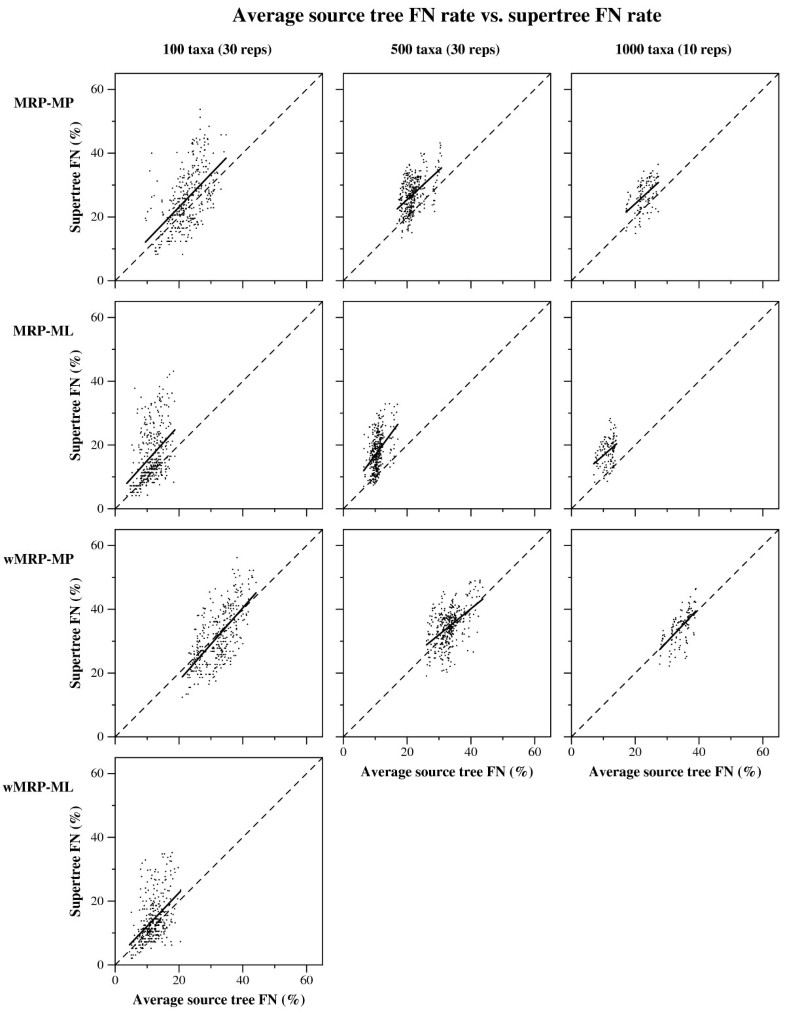 However, while it is not surprising that trees estimated using ML are more accurate than trees estimated using MP, the performance of ML in our study, particularly in the combined analyses, is still noteworthy because our data analyses did not include partitioning of the datasets. All the sequence datasets we generated were obtained by concatenating gene data sets; maximum likelihood analyses of these datasets then proceeded without using the "partitioned analysis" option. Since each gene in the dataset could evolve under a different model of evolution, the concatenated data sets were not guaranteed to evolve under the same GTR model. Therefore, our ML analyses were performed under a simpler (single GTR matrix) model, even though the data were generated under a more complex model. This treatment of the data has the potential to reduce the accuracy of all our ML-estimated trees (whether ML source trees or ML combined analysis trees), in comparison to what they might have been if they had been estimated under a partitioned analysis for each gene. Therefore, the improved topological accuracy of the ML-based methods in comparison to the MP-based methods shows that maximum likelihood is likely to be more accurate than MP.
Running time
Table
3
provides information on the running times of the methods studied here. Since these methods were run under Condor (a distributed system lacking dedicated processors), these numbers should be considered approximate and are given only as an indication of the general trends. Running times for wMRP-ML were prohibitively high for the 500 and 1000 taxon datasets, making it infeasible to use wMRP-ML on datasets of these sizes. Almost as problematic is wMRP-MP, which can be extremely slow on some 1000 taxon datasets. Combined analysis using maximum likelihood takes more time than combined analysis using maximum parsimony or MRP-ML and MRP-MP, but is still acceptable in its computational requirements (although it requires more than a day of analysis on the 1000 taxon datasets).
Num. Taxa

Scaffold Factor

Num. Scaff. Genes

MRP

wMRP

Comb. Analysis

MP

ML

MP

ML

MP

ML

100

20%

1

0:02:26 (0:00:16)

0:04:12 (0:00:17)

0:01:59 (0:00:30)

7:00:43 (0:07:22)

0:00:19

0:09:22

2

0:02:46 (0:00:18)

0:04:33 (0:00:17)

0:01:59 (0:00:29)

13:09:51 (0:08:19)

0:00:20

0:14:49

4

0:02:46 (0:00:18)

0:04:48 (0:00:17)

0:02:02 (0:00:30)

13:12:03 (0:09:27)

0:00:22

0:24:19

50%

1

0:02:31 (0:00:17)

0:04:52 (0:00:17)

0:02:02 (0:00:34)

13:27:05 (0:07:26)

0:00:20

0:19:28

2

0:02:52 (0:00:17)

0:04:43 (0:00:17)

0:02:00 (0:00:29)

13:34:02 (0:08:30)

0:00:19

0:18:45

4

0:02:36 (0:00:19)

0:04:47 (0:00:17)

0:02:03 (0:00:27)

13:29:32 (0:09:39)

0:00:21

0:11:47

75%

1

0:02:34 (0:00:18)

0:04:40 (0:00:18)

0:02:10 (0:00:38)

13:37:31 (0:09:14)

0:00:20

0:11:22

2

0:02:37 (0:00:21)

0:05:08 (0:00:19)

0:02:08 (0:00:31)

7:51:22 (0:04:47)

0:00:20

0:14:09

4

0:02:39 (0:00:19)

0:05:25 (0:00:19)

0:02:12 (0:00:27)

16:08:55 (0:06:31)

0:00:22

0:17:46

100%

1

0:03:12 (0:00:19)

0:04:49 (0:00:18)

0:02:15 (0:00:40)

16:04:16 (0:00:46)

0:00:19

0:15:59

2

0:02:42 (0:00:19)

0:05:12 (0:00:18)

0:02:15 (0:00:31)

16:23:16 (0:00:32)

0:00:20

0:15:59

4

0:02:51 (0:00:19)

0:05:24 (0:00:17)

0:02:27 (0:00:27)

14:12:23 (0:00:30)

0:00:21

0:16:42

500

20%

1

0:38:08 (0:14:00)

0:42:23 (0:10:30)

4:33:43 (4:11:26)

0:31:32

8:18:55

2

0:36:41 (0:13:12)

0:54:00 (0:14:02)

4:16:10 (3:52:54)

0:30:03

8:11:45

4

0:36:15 (0:12:38)

0:43:26 (0:10:26)

3:40:18 (3:16:18)

0:31:41

10:46:11

50%

1

0:35:50 (0:12:57)

0:50:02 (0:11:11)

5:15:58 (4:54:09)

0:36:43

10:28:04

2

1:04:27 (0:23:12)

0:53:11 (0:12:19)

5:16:34 (4:50:07)

0:33:17

11:11:52

4

0:46:12 (0:15:36)

0:59:05 (0:13:42)

5:12:08 (4:42:06)

0:31:30

8:40:21

75%

1

0:38:20 (0:13:45)

0:54:45 (0:12:56)

7:03:10 (6:40:10)

0:37:44

7:02:24

2

0:37:54 (0:12:30)

0:52:09 (0:11:05)

6:34:58 (6:07:25)

0:34:19

7:53:34

4

0:41:21 (0:12:39)

0:57:47 (0:11:43)

3:52:45 (3:18:24)

0:29:39

8:38:06

100%

1

0:44:33 (0:15:07)

0:57:14 (0:11:53)

7:04:20 (6:43:18)

0:35:42

7:51:45

2

0:44:38 (0:14:23)

1:09:41 (0:14:36)

12:33:24 (11:56:14)

0:37:26

7:59:34

4

0:43:44 (0:12:02)

1:05:59 (0:11:38)

5:33:52 (4:55:00)

0:26:27

7:10:35

1000

20%

1

3:27:39 (2:21:39)

3:14:56 (1:47:23)

85:59:18 (84:53:20)

6:09:44

30:51:13

2

3:22:14 (2:18:39)

3:26:56 (1:47:54)

30:34:14 (29:53:19)

5:46:56

28:05:57

4

4:23:55 (3:05:25)

3:21:37 (1:51:27)

83:56:34 (82:42:34)

6:15:50

27:58:00

50%

1

3:22:33 (2:18:18)

4:22:00 (2:18:23)

75:21:00 (74:11:14)

7:36:14

33:21:22

2

3:36:43 (2:24:07)

3:28:32 (1:37:26)

54:19:41 (53:30:45)

6:14:55

29:23:03

4

3:15:25 (2:01:12)

4:06:33 (2:00:27)

41:23:37 (40:19:38)

11:13:18

29:28:29

75%

1

4:12:25 (2:38:59)

4:18:28 (1:58:46)

88:13:11 (87:10:11)

8:07:53

33:39:42

2

4:01:05 (2:24:18)

4:22:16 (2:00:57)

67:17:02 (66:12:47)

6:16:32

28:41:11

4

4:11:41 (2:22:43)

4:34:12 (1:40:56)

50:49:52 (49:25:52)

5:33:09

29:08:11

100%

1

5:29:37 (3:26:03)

4:29:46 (1:52:53)

174:47:23 (173:41:33)

7:56:46

34:14:48

2

4:26:05 (2:39:56)

5:53:10 (2:30:23)

295:10:35 (293:51:27)

6:02:16

27:11:45

4

4:54:31 (2:43:09)

4:43:11 (1:51:43)

174:52:35 (172:49:10)

4:49:07

24:33:39
Comparison with earlier studies
The most appropriate studies for comparison with the work presented here are those by Bininda-Emonds and Sanderson [5] and Criscuolo et al. [13] since they both performed simulation studies using MRP and combined analysis approaches. However, Bininda-Emonds and Sanderson only examined CA-MP, wMRP-MP, and MRP-MP, while Criscuolo et al. only examined CA-ML and MRP-ML; our study is, thus the first to consider wMRP-ML as a supertree method as well as the first to compare MP-based "super-methods" to ML-based super-methods. Direct, quantitative comparisons with their studies are somewhat complicated because they used different metrics for assessing the topological accuracy of estimated trees relative to the true trees: Criscuolo et al. used quartet distances and Bininda-Emonds and Sanderson used the consensus fork index (CFI). We, therefore, restrict our comparisons to qualitative differences.
The result common to all three studies is that for each fixed optimality criterion (MP or ML), combined analysis is more accurate than MRP. However, the studies differ in terms of the magnitude of the improvement obtained by combined analysis over MRP, with our study finding much larger differences (especially for the small scaffold factors). Beyond the relative performance of MRP and combined analysis, the three studies come to different conclusions. Bininda-Emonds and Sanderson found that wMRP-MP was more accurate than CA-MP, whereas, across all model conditions, our study found that CA-MP was more accurate than wMRP-MP, having much lower FN error rates and comparable FP error rates. We also found that wMRP-ML was not as accurate as CA-ML for 100 taxon datasets. Since neither earlier study evaluated wMRP-ML as a supertree method, our findings with respect to its performance cannot be compared to their findings, except insofar as our findings are helpful in understanding wMRP as a generic supertree method.
The differences between our findings and those of Bininda-Emonds and Sanderson and Criscuolo et al. could be due to several factors. Since our results show that increasing the number of taxa increases the relative advantage of combined analysis over MRP and wMRP, we suspect that one factor is likely the number of taxa in the experiments: we examined datasets with between 100 taxa and 1000 taxa, while Bininda-Emonds and Sanderson explored datasets with at most 32 taxa and Criscuolo et al. explored 48 and 96 taxon datasets. Since most recent empirical supertree studies have included upwards of 200 taxa (see Table 1), and it is likely that future empirical supertree analyses will also tend to be in the range of our analyses, our results may be a better indicator of the relative performance of MRP supertree and combined analysis methods (and in particular, of wMRP-MP and CA-MP) for current uses of these methods. A second factor could be our simulation methodology. One of the main differences between the simulation methodology we used and those used by others is the taxon sampling procedure: our datasets included clade-based source trees and scaffold source trees, while the technique used by both Bininda-Emonds and Sanderson and Criscuolo et al. produced only scaffold datasets, because their taxa were always randomly selected from the full dataset. (Bininda-Emonds and Sanderson used 25%, 50%, 75%, and 100%, and Criscuolo et al. used 25% and 75% scaffold factors.) While the comprehensiveness of taxon sampling for in-groups in biological studies varies depending on the purpose of the study, the resources available to the researchers, and the ability to collect or access source material, there is almost always a clear non-random distribution of taxon-sampling effort in most of the individual trees that would be used as input for a supertree method or for producing a supermatrix. Thus, it is likely our technique better replicates systematic practice than theirs. To test this expectation, we designed an additional experiment to see if using only scaffold-based source trees would result in findings more similar to those produced by Bininda-Emonds and Sanderson and Criscuolo et al.
Using our 100-taxon model trees, and using the same methodology described in the Methods section, we generated a collection of "all-scaffold" datasets for analysis by MRP-ML and CA-ML. For each model condition, we generated 30 replicate datasets. First, we generated 100 universal genes (50 slow and 50 medium), under different GTR+Gamma+I models. For the MRP-ML analyses, we produced six source trees, each based upon four genes, and sampling taxa at random for the specified scaffold factor. Note that different source trees could use genes used by other source trees, but within a source tree all four genes were different. These gene matrices were combined into a single matrix for the combined analysis. We then analyzed the datasets using MRP-ML and CA-ML, and scored each tree for its false negative and false positive rate. We also recorded the topological error in the estimated source trees.
The patterns we saw for these "all-scaffold" model conditions were mostly consistent with our first experiment, but also provide interesting contrasts (contrast Figure
7
to Figures
1
and
2
). The two experiments show roughly the same relative performance between CA-ML and MRP-ML: for the lowest scaffold factors (20% and 50%) CA-ML is much more accurate than MRP-ML, while for the largest scaffold factors (75% and 100%) they have almost identical performance. As before, we see that scaffold factor impacts the accuracy of both methods, but in this experiment the impact is greater: at the lowest scaffold factors (20% and 50%) both methods produce very inaccurate trees (with MRP-ML clearly worse), and at the highest scaffold factors they produce highly accurate trees. Since the scaffold factor is a pretty close approximation to the amount of nucleotide data in the matrix (i.e., for scaffold factor of 20%, the alignment will have about 20% nucleotides and 80% missing data), this suggests that the amount of missing data for these all-scaffold datasets has a large impact on the accuracy of both supertree and combined analysis methods. Note, however, that CA-ML seems somewhat more robust to missing data than MRP-ML. Given MRP-ML's particularly poor accuracy on the sparse scaffold datasets, we examined the error rates in the source trees to see if the problem was due to poor source trees (Figure
8
). Interestingly, the ML source trees had only moderately high error rates (about 20%) for the lowest scaffold rate-a case where MRP-ML had average error above 80%; a similar, but less extreme, situation presents for the 50% all-scaffold datasets. We provide the following possible explanation for these results: when the datasets are all very sparse scaffold datasets, there may not be enough overlap in the source trees to provide enough phylogenetic signal, thus hampering potentially any supertree method. While supermatrix methods are also impacted negatively, they are somewhat more robust to missing data.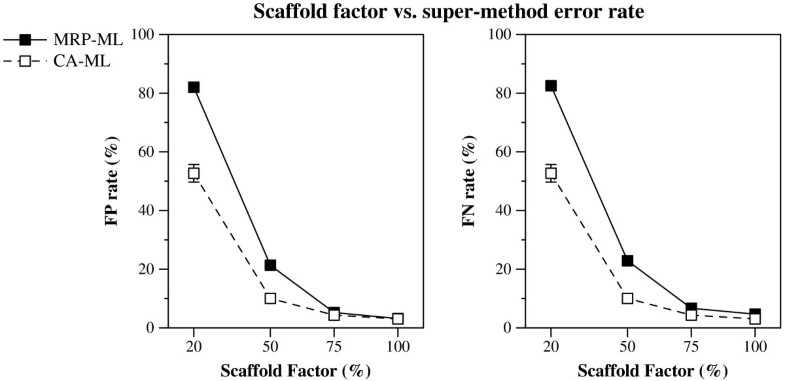 At the other end of the spectrum, when all the source trees are dense scaffold datasets, we see that both MRP-ML and CA-ML produce highly accurate trees, even improving in accuracy over the source trees (Figure 8). This interesting phenomenon also has a potential explanation. First, different source trees can be helpful for different parts of the tree, and so may provide complementary information about the tree; this allows supertree methods (as well as supermatrix methods) to return a more accurate tree on the full set of taxa than the average source tree.
A comparison between the results we see for all-scaffold datasets and the combined types of source tree datasets (some scaffold and some clade-based) shows that however one estimates trees (supertree or supermatrix), all-scaffold datasets tend to result in very poor trees except when they are all very dense. We also saw that the mixed source tree dataset conditions had the best accuracy when some source trees are dense, but that reasonably good results could be obtained from only moderately dense scaffold datasets if analyzed using CA-ML. Furthermore, MRP seems more sensitive to the problem of sparse taxonomic sampling than combined analysis, further lending support to the hypothesis that MRP is generally inferior to combined analysis.
Conclusions
Our study has two main contributions. First, we provide a new experimental methodology, SMIDGen (available from the first author), for generating simulated multi-marker datasets, and we show that SMIDGen can be used to evaluate supertree and combined analysis methods under a range of conditions that reflect both biological processes and systematic practice. The datasets and model trees used in this study are available as benchmarks in our online supplementary material, at http://www.cs.utexas.edu/users/mswenson/pubs/. Second, we show that combined analysis using maximum likelihood produces more accurate trees than all the other methods we tested, with the degree of improvement increasing with the number of taxa and decreasing with the density of the scaffold tree. Third, we show that taxonomic sampling strategies for the multi-marker datasets affects all phylogenetic analyses, but that MRP-ML is particularly impacted when all the markers are sparsely sampled from the full set of taxa. These results together provide evidence that combined analysis using maximum likelihood (CA-ML) should be used instead of MRP when possible. These results also suggest that the selection of markers for large-scale multi-marker phylogenetic analyses should be done with care, ensuring that a sufficiently large number of markers provide dense coverage within clades, and using sparsely sampled datasets (perhaps) only as needed. However, further research is needed to determine the impact of adding sparsely sampled datasets to an otherwise "good" multi-marker dataset.
Our recommendation to use combined analysis to assemble trees from maximum likelihood source trees thus argues for a computationally intensive approach to large-scale phylogenetics. However, with the availability of fast and highly accurate software for maximum likelihood (e.g., RAxML and GARLI [33]), such combined analyses should not pose a substantial computational problem. Finally, our conclusions are limited specifically to a comparison of MRP and combined analysis, as we did not test any other supertree methods. This limitation was due to the fact that most other supertree methods require the input source trees to be rooted, and our simulation process does not make it easy to locate roots within the estimated source trees. Thus, we leave open the possibility that some of these other supertree methods may outperform combined analysis using ML.
Declarations
Acknowledgements
This research was supported in part by the US National Science Foundation under grants DEB 0733029, 0331453 (CIPRES), 0121680, and DGE 0114387. We thank Rahul Suri for his assistance in running a portion of the tree reconstructions. We also wish to thank the referees for their helpful and detailed comments.
Authors' Affiliations
(1)
Department of Computer Sciences, The University of Texas at Austin, Austin, USA
(2)
Microsoft, Redmond, USA
(3)
Section of Integrative Biology, The University of Texas at Austin, Austin, USA
Copyright
© Swenson et al; licensee BioMed Central Ltd. 2010
This article is published under license to BioMed Central Ltd. This is an Open Access article distributed under the terms of the Creative Commons Attribution License (http://creativecommons.org/licenses/by/2.0), which permits unrestricted use, distribution, and reproduction in any medium, provided the original work is properly cited.